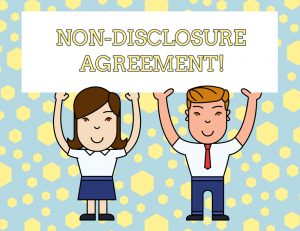 Using Non-Disclosure Agreements (NDA) is a smart move for any small business owner. As you run your business, you'll work with a variety of people in a variety of contexts, and you may have to share confidential information with them.  You'll want assurance that the other party won't share that information with anyone else.  Situations where this concern arises include ones where:
Your employees have access to company secrets, intellectual property, future strategic plans, customer pricing, and many other pieces of information that you don't wish to have shared.
You've shared financial information and future plans with business partners or investors.
You've given an accounting firm your financial information, including the debt and equity information, so that they can do your taxes.
You've shared information with suppliers on pricing or marketing tactics to be a good strategic partner.
Anyone else with whom you share information with that you want to keep from public knowledge. 
Consider using non-disclosure agreements any time you're sharing confidential information, especially if keeping that information secret is crucial to your success – if your baking tastes better because you use an ingredient that no one else does, or your product lasts longer because you use a manufacturing technique that no one else has thought of, you don't want that secret getting out so that other people can also start benefiting from what makes you superior in your market! 
Learn More About Non-Disclosure Agreements and Download a Template 
Thanks to Cobalt Lawyers  and ClauseHound. The information provided may not be relevant to your jurisdiction, this information is not a substitute for obtaining legal counsel, nor does it create a lawyer-client relationship with you, the reader.
Have you checked out our webinars yet? Head to our webinar channel and check them out! Tell us which one you like the best!