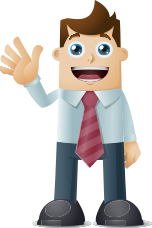 Small Business Centres
Good Business Decisions
Make Your Clients Successful
Isn't this what we are all here for? The #1 reason why a business goes out of business is lack of management experience and training. The #2 reason, financial decisions. Small Business Solver's goal is to help you, help them, with both. How?
1. Lower Clients' Start Up Costs & Ongoing Expenses
By joining as a group member, all of your individual members have access to the Small Business Membership Deals. Learn more…
2. Small Business Training Based On Clients' Learning Needs
Everyone learns differently. Providing seminars and face to face coaching is critical. Adding webinars, videos, online courses and interactive tools ensures that small business owners have options for when they are busy. Learn more…
3. Add More Value In Each Engagement
Adding more value in each small business client engagement is critical. Especially based on their finite amount of time.
Being scalable and doing more with less is critical to any organization. By getting clients to leverage self-help tools, you are able to spend time on more difficult concepts or discussing intricate challenges rather than the basics. Face-to-face meetings become more focused on reviewing concepts, making the theory more applicable, and addressing specific questions.
4. Keep Them On Track
Helping small business owners is easier when you can monitor actual activity levels. The dates that your client registered, last visited, and how often they have visited Small Business Solver is recorded and visibility access is provided.
Plus you can customize the learning tracks of your clients. Need to complete a business plan? Want to focus on sales techniques? Check out the learning tracks to get your clients started.
5. Keep Your Costs Down
Group pricing is available, making it even more affordable.

What Is Included In Group User Pricing?
Access to Business Solver, Marketing Solver, Planning Solver, Sales Solver, Finance Solver (over 180 training modules)
Availability of localized webinars for your region
Business advisor access to Coach Solver, Instructor Guides, Worksheets, and PowerPoints to assist in face-to-face meetings and seminars
All 100+ members get access to Staples Copy & Print 20% discount, Staples Advantage discounts
Ebook "Will It Fly?: The Idea Tester" with unlimited distribution rights
Access to a select number of ECourses (launch date of March 2013)
How It Works
The Group User ID lasts for 1 year. All individual members that register within that one year, have 1 year of access. For example, a Group User could start Jan 1st 2013 be active until December 31st 2013. If an end user activated their account on December 20th 2013, their access would be valid until December 19th, 2014.
Cobranding is done through a sponsorship logo that is displayed on your end users account page.
Microsites will be available for cobranding in 2013.
Contact us to book a webinar to learn more.