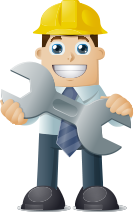 Small Business Tools
Interactive Tools for you
What Needs Fixing?
Have a Business Challenge or Need To Make a Decision?
Whether it is how to spend your time, creating an action plan for the next 3 months, learning how to cold call, or deciding who to partner with, Small Business Solver has quick & easy-to-use business modules that helps you make these crucial decisions while following business best practices.
Check out Business Solver

Will Your Business Idea Fly?
Have a Million Ideas?
Test them all in 5 minutes or less to see whether the ideas are feasible. Then focus your time and money on the best ones or learn how to tweak your idea to improve its probability of success.
Check out The Idea Tester

What Marketing Tools Will Work?
Need a Strategic Marketing Plan Now?
Quickly sort through 300 different marketing ideas to find out what will work best for your business. If you have no marketing and want to get a ton of customers to find out about you, this tool will show you the 57 marketing tools that will help you move forward. Want to build better customer relationships today? Marketing Solver gives you 130 different ideas on how to do this in a week.
Check out Marketing Solver
How To Improve Your Sales?
Need To Get More Customers?
Getting customers is the most important part of business. In fact, without customers you don't have a business. Sales Solver helps to identify your major roadblocks to getting customers and helps you focus on improving the areas that will get you sales fast. There is help with closing, handling objections, networking, getting referrals, building presentations, and 45 other sales challenges.
Check out Sales Solver

What To Expect When You're Starting?
Need Help with Motivation & Figuring Out What To Do Next?
Every week get inspired! Start-Up Solver has weekly topics including strategic planning, short term cash flow, and small business rules.
Check out Start-Up Advice