Social media is always changing!! It is important as a small business owner to stay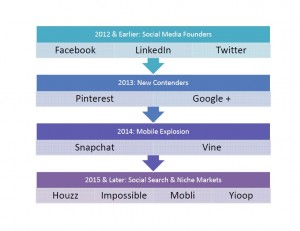 on top of these changes and how this will impact your business online.
This 30 minute video talks about how social media is changing and where it is headed. Specific new tools are reviewed and any way that you can use them in small business is discussed.
After the webinar, a few questions were asked.
1. What other goals can you have for your social media?
– you can do market research, marketing testing, and find out how your customers actually feel about your business.
2. How do you decide where to spend your time?
– start with the basic ones, LinkedIn and Twitter are more stable to invest time into. Explore the new social media platforms when you have 'free time'.
3. How can you think out of the box and become viral in your social media marketing?
– social media isn't as viral as we all think it is. It is all about reaching a certain threshold where your video or post is highly ranked in its search. To get there, promote to your network and friends. Once you hit the threshold this becomes easier and easier.
Contact The Expert
Allan Pollett
allanp73@gmail.com
Resources
http://www.snapchat.com/
https://vine.co/
http://www.houzz.com/
http://www.impossible.com/
http://www.mobli.com/
http://www.yioop.com/
http://www.linkedin.com
http://www.twitter.com
http://www.facebook.com