Financial Services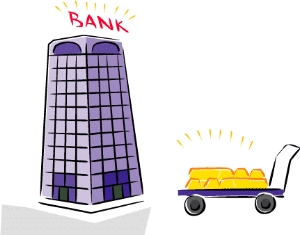 Financing Seems Tough, But There Are Options
If you don't know what option makes sense for you or where to start, try starting with the Funding Options Decision Tree that works through yes/no questions to discover how to finance your business. Once you know where to start, find the specific financing organization and move forward!
A key thing to remember is that almost all of the government grants are designed to eventually create more taxation or reduce spending. For example, technology grants are to help local companies create new ideas and become more competitive to hire more educated workers. Another example, small businesses get start up loans in order to potentially hire employees. Finally, non-profits are supported as their volunteers are mission can supplement the work of government organizations such as welfare. With this end goal in mind, small businesses applying for government grants are better served.
Banking Services
There are 6 main banks in Canada and a multitude in the United States. In general, make sure that you have the same amount of collateral as what you are looking for. Other key metrics include credit score, other forms of income, and relationship with the bank. Start building your relationship early!
Angel Funding (Fixed + Percentage)
Angel funding is designed to help businesses that need more than a bank loan, but less than a venture captialist. Plus they are not as developed. Often they are less than 6 to 1.5 years old. Find out how to get your idea heard.
Venture Capital (Equity)
Venture Capitalist are often interested in more established businesses in a rapid growth state. Often they demand a large percentage of the business' ownership and/or they demand a change in management. On the flip side, they bring a lot of contacts and experience.

GrowthWorks : A venture capital group that focuses on the technology and pharmaceutical industries.