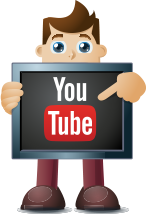 Business Training Webinars
get up and running faster
Want to get up and running faster?
All training webinars are only 30 minutes in length no travel time!
Check out the:
Business Webinar & Event Calendar
Sign up for monthly newsletters of upcoming webinars
Check out the latest at
Small Business Solver's YouTube Channel

For more information about upcoming business training seminars or if their is a training course that you wish us to present, please feel free to contact us.
Want to promote these
webinars to your own clients? Learn how