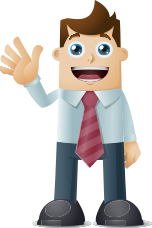 Universities & Colleges
On-Line Resources
Schools
Want To Pump Up Your Small Business Program?
Innovation & entrepreneurship are rising areas of study within many institutions. With the rise in youth unemployment and the financial challenges in the economy, self employment and small business are becoming more important in the community. There are many different ways that you can enhance this part of your organization.
Online Textbook
Books are no longer the number way to transfer information. This is even more true in industries with innovation, which is highly present in small businesses. Why have a small business textbook that is stagnant? Leveraging over 200 small business modules, 7 interactive tools, and the ongoing development of webinar content, Small Business Solver will help to ensure that content is relevant and always up to date.
Continuous Education Online
Add to your existing online content with small business material. Not only is there a new webinar every week, but all webinars are tapped and available when your students have time to learn.
In January 2013, online continuous education programs will be available with revenue sharing opportunities.
Small Business Certificate Of Achievement
If you are ready to offer more, the Small Business Certificate Of Achievement is something that could be delivered on your campus. We can work with you to market, integrate, and deliver these small business courses at your school.